Slide 1
Far Infrared Mini Heating Mat Pad
"Love the mini mat. It's so portable that I take it on driving trips. I purchased one for my husband and now he wouldn't be without it."
DB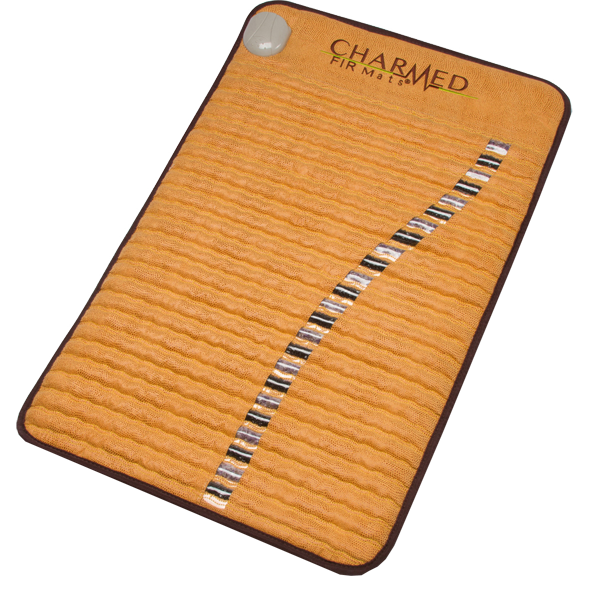 2
WIDE FIR Mini Mat
"My wife and I both love this and use it daily. Helps with pain and relieving tight neck and shoulders."
JG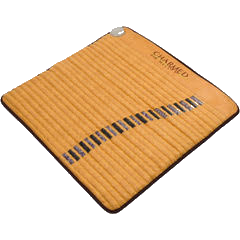 3
Far Infrared Professional Size Mat
"I bought one but my older sister won't get off mine. You have made two old ladies very happy, lol Thanks again!!! I now call it my Zanex mat so relaxing and My sister said it made her bones feel ten years younger….. "
JJ
4
Radiant Far Infrared Amethyst Mini Mat
"This product is amazing! Provides excellent heating that soothes away aches and pains, and is very relaxing to use. The quality of the materials is very good, including the heat adjustment component."
JG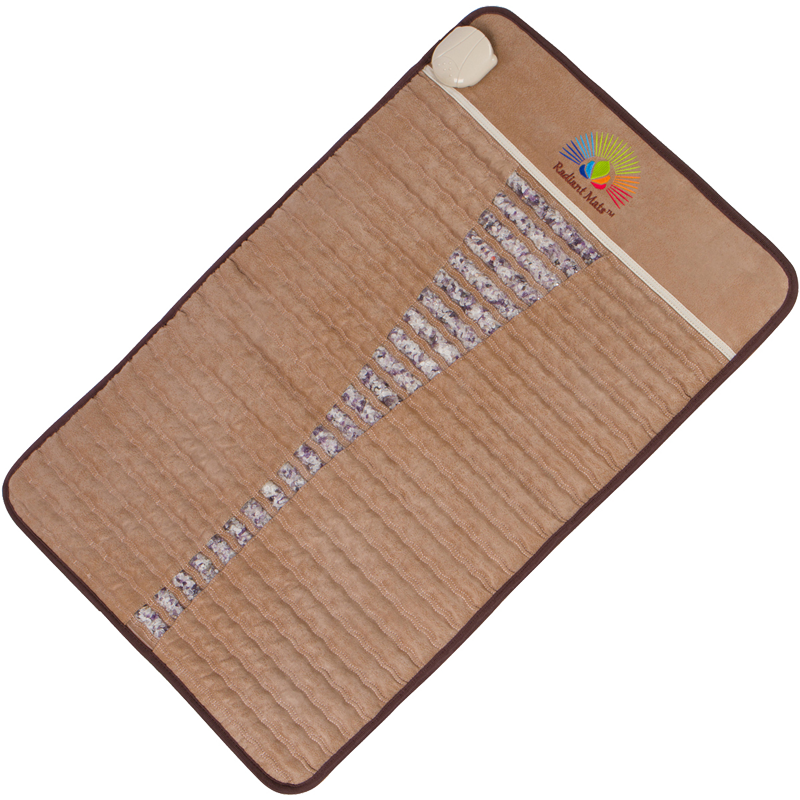 Welcome to Charmed FIR Mats® by Sensible Decisions, Inc.
We are a company dedicated to creating the very best quality products, providing non-drug and non-surgical solutions to health problems.
Far Infrared Heating Pads
Far Infrared heating pads (with amethyst and tourmaline) are our specialty. Far Infrared (FIR) is part of the light spectrum of natural sunlight. It is a safe form of energy that heats objects by a process called direct light conversion, producing radiant heat. Unlike a regular heating pad, far infrared heat penetrates deeply. The body absorbs the heat, to naturally reduce inflammation, muscle stress, increasing metabolism, peripheral blood flow and blood oxygenation.
Used at higher temperatures causes the body to improve immune functions. Higher temperatures can increase body temperature (hypothermia), increasing white blood cells to kill bacteria, viruses and parasites.
This type of heat can help relieve back pain, arthritis, sciatica and muscle pain, Lyme disease symptoms, bursitis and other treatable physical difficulties. It is also known to reduce chronic inflammation, anxiety and stress.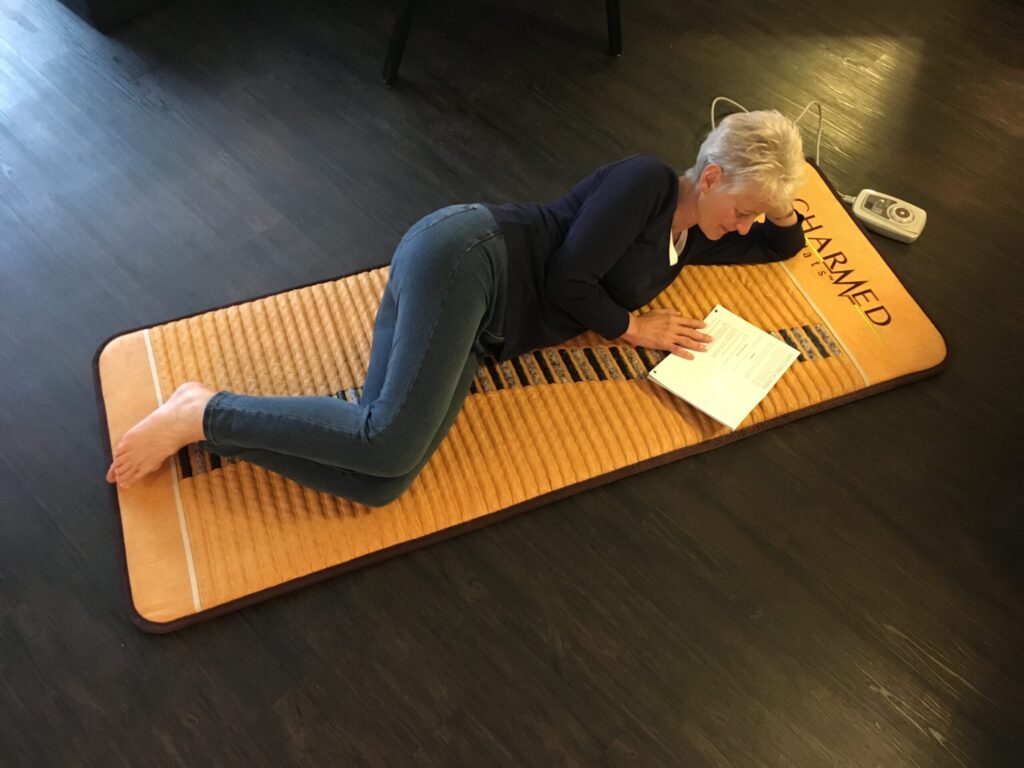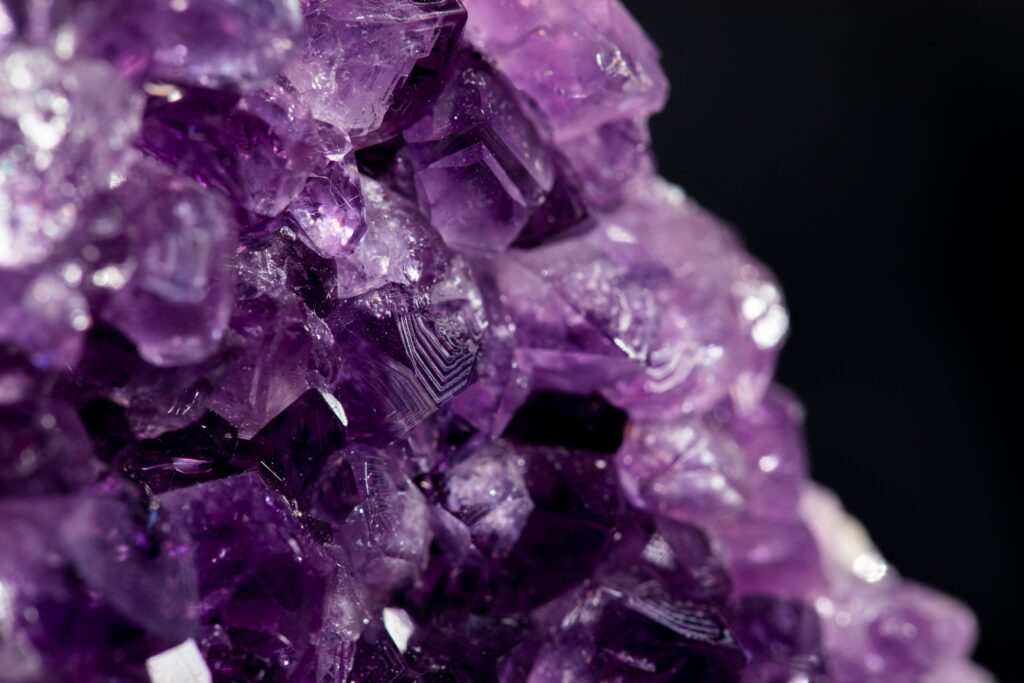 Our Charmed FIR Mats® combine far infrared technology with the healing powers of Amethyst with or without Tourmaline crystals to provide professional therapeutic results right in the privacy of your own home.
Research shows Amethyst crystals utilize infrared energy extremely effectively, allowing thorough absorption for deeper healing properties. Amethyst is known to be restorative and gentle on the body, considered the best stone for relaxation.
Pairing amethyst crystals with detoxifying, immune boosting natural Tourmaline stone, our FIR mats generate healing negative ions that are absorbed directly into the body.
Customers report that our mats greatly aid sleep and pain relief. Our flexible backing design offers unparalleled comfort, allowing them to mold to the body when placed on a soft surface such as a bed or sofa.
EMF protected: our mat is a Class ll medical device from a factory registered with the FDA. This means it qualifies for FSA and HSA reimbursement with most insurers. We offer a solid 2-year warranty against defects. USA ONLY.
"This product has immensely helped my health. I've been super impressed with the noted health benefits for an autoimmune condition and muscle/joint pain. Thank you Charmed FIR Mats!!! I sleep with it on a low setting and wake up feeling more refreshed than I have for years. It actually stimulates the cells rather than traditional heating pads that only heat the skin."
"You must have one for your health when your body needs help. This is one item you can go to for assistance. At a certain age we need to work on restoration and rejuvenation. I danced for many years and this mat is my blessing! Thank you for the good price!"
Shop Far Infrared Heating Pads
We are a company dedicated to creating the very best quality products possible
Far Infrared Heating Pads are our specialty. Our FDA-registered manufacturer delivers a dependable product you can trust. Get attention off your body and back onto life with better health!
You are never too old to feel better!
✔ Good customer service ✔ Lower prices than  distributors ✔ Low price doesn't mean low quality
We treat our customers like family because we know you value workable alternative health solutions like us!
Our customer service always responds within 24 hours, 7 days a week
History of Heat Therapy
The application of heat to treat certain conditions, including possible tumors, has a long history.
Ancient Greeks, Romans and Egyptians used hot stones, wrapping them in hot blankets or immersing them into hot water or sand to treat breast masses.
Benefits of Far Infrared Therapy
More and more people are discovering the many health benefits of Far Infrared Therapy.
Including easing joint pain and stiffness, improving immune system function and more.
Construction is Key
Our mats have sixteen layers of top quality construction for best results.
We use only the best materials and stones available.
You need results and we want to give you those results in the safety of your own home. Our mats are constructed to last for years.